Arcos rotary tables are designed for the treatment and surface finishing of metallic materials. Featuring multiple work stations / units organized around a rotary table, the advantage of Arcos rotary tables is to significantly reduce the cycle time thanks to the simultaneous processing of the various operating phases. Compared to robotic applications, Arcos rotary tables for cleaning, polishing, grinding and satin finishing find their field of application in objects with less complex geometries, but which require a significant increase in productivity.
FEATURES OF OUR ROTARY TABLES
These automatic finishing machines are therefore ideal for applications in sectors such as:
Arcos rotary tables are essentially distinguished in:
All Arcos automatic machines are designed to work autonomously and independently with ease of use, reliability and flexibility. Continuous rotary tables are ideal for intense productions with a high number of pieces per year. The technological solution underlying their operation is the continuous rotation of the table and its workpiece holders. The cleaning units placed around the table are designed according to the need for finishing, equipped with several electric or controlled movement axes.
CASE STUDIES FOR ROTARY TABLE MACHINES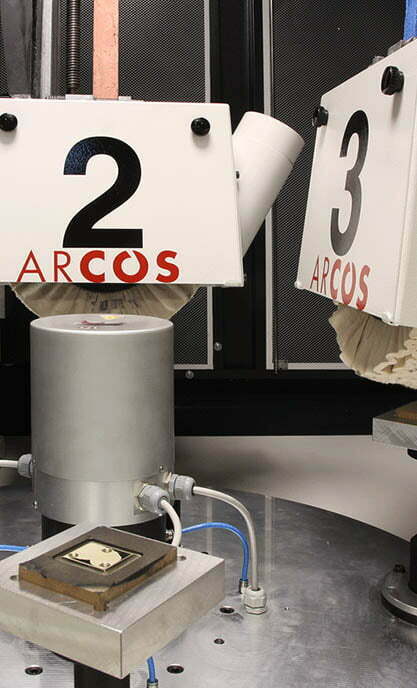 Continuous rotary table for polishing
The Robotized Systems with Continuous Rotary Table automates the polishing process of high fashion details, such as buckles and other components.
• Rotating work table
• 4 Brush polishing units
• Compensated working unit equipped with brush oscillation system
• 1 Piece loading / unloading station
• Possibility to manage solid and / or liquid polishing paste
• Automatic control of brushes and paste wear
• Soundproof cabin
• Remote Support
PLEASE CONTACT US HERE TO DISCUSS YOUR PROJECT